Over the weekend, Justin and I ventured up to DC to visit some friends. As part of the October challenge, and simply because I love doing it, I decided to share our "weekend in the life" vacation part 2. (Previous weekend in the life:
Chattanooga
)
We will begin this post with
Friday
…
1am: Go to sleep. (Because that's how awesome I am.)
4am: Wake up, because some people have to go to work super early. Luckily, it's not me; it's Justin. Unfortunately, due to lack of desire to have all of our cars in Atlanta, I had to get up too. This resulted in a very exhausted me. At least I got a hot, homemade croissant out of the deal. :)
6am: Arrive at Justin's office. Do all of my typical morning work including writing a
blog post
. (Perhaps next time I should write one in advance?!)
11am: Leave Justin's office. He surprised me by getting me a warm, just out of the oven, butterscotch cookie called Skor from a small snack store located on the lower level of his office building. Then we began the 45 minute trek to
Marta
.
12:30: Marta stopped just a few stations short of the airport. Our goal was to be at the
airport
by then… will we make it? I point planes out to Justin and comment that "there goes our plane!" as one takes off. A Marta worker sitting nearby consoled me and said that they are merely waiting on another Marta train ahead of us to leave the Airport station. This made me feel a little better.
1:30: TSA stopped me because I used the nickname "Mandy" on my ticket rather than my full, actual name. They asked me to get my ticket reprinted. Justin gave them a problem. Security was called. Luckily, the security officer was kind and understanding; he let me through since his birthday is the day after mine. July birthdays ftw! :)
2pm: Lunch at Five Guys inside the airport, then boarding. We were one of the first on the plane. Yay!
4:30pm: We arrived in DC and boarded the
Washington DC Flyer bus
for our connection to the
DC Metro
train station. While we did not have to wait on a single connection, it still took us over an hour to get from
IAD
to our hotel. Meanwhile, we were exhausted and tired of carrying our luggage.
6:30pm: Finally we arrived at the
Grand Hyatt Hotel
; the lobby is as glamorous as it looks online. Our check-in agent gave us a map of the area, talked to us about the Metro, and provided us with a room with an outside view on the 8th floor. We were so thankful to be able to see the outside. Since most of the DC Metro is underground, it was nice seeing the sun.
7pm: We attempted to leave the hotel and find good food, but we were tired and in a hurry to visit with friends. Instead we ate at
Cure
inside the hotel. We ordered chicken, asparagus, and potatoes with a glass of red wine and sparkling water. It is the perfect meal after a strenuous day. (Sidenote: DC water is disgusting. We refused to drink it the entire time we were there.)
8pm: Before hopping aboard the Metro to head for Maryland to meet up with Justin's friends, we grabbed a strawberry and lemon crépe at a nearby
créperie
. Unfortunately, it just served to make me miss Paris that much more. Crépes in DC are boring and lackluster compared to the ones in Paris. As the night wore on and we finally arrived at Justin's friend's home, much drinking and talking ensued after we were given the grand tour of the humble abode. We didn't return to the Metro until 2am and by then we were soooooooo tired.
Saturday
6am: Justin woke up and tried to wake me up to go see the sunrise. I wanted to kill him. ;) Unhappily, I got up and followed him out of the hotel, getting lost more than once and missing the sunrise entirely. I was miserable, tired, and frustrated. *sigh*
8am: Given that I was miserable and wanted to change clothes, we attempted a quick return to the hotel via the Metro only to discover that the red line would only be running every 30 minutes all weekend. Argh. At the hotel we had the chance to drop off some of the heavy camera equipment. All we took back out with us was the camera and one extra lens.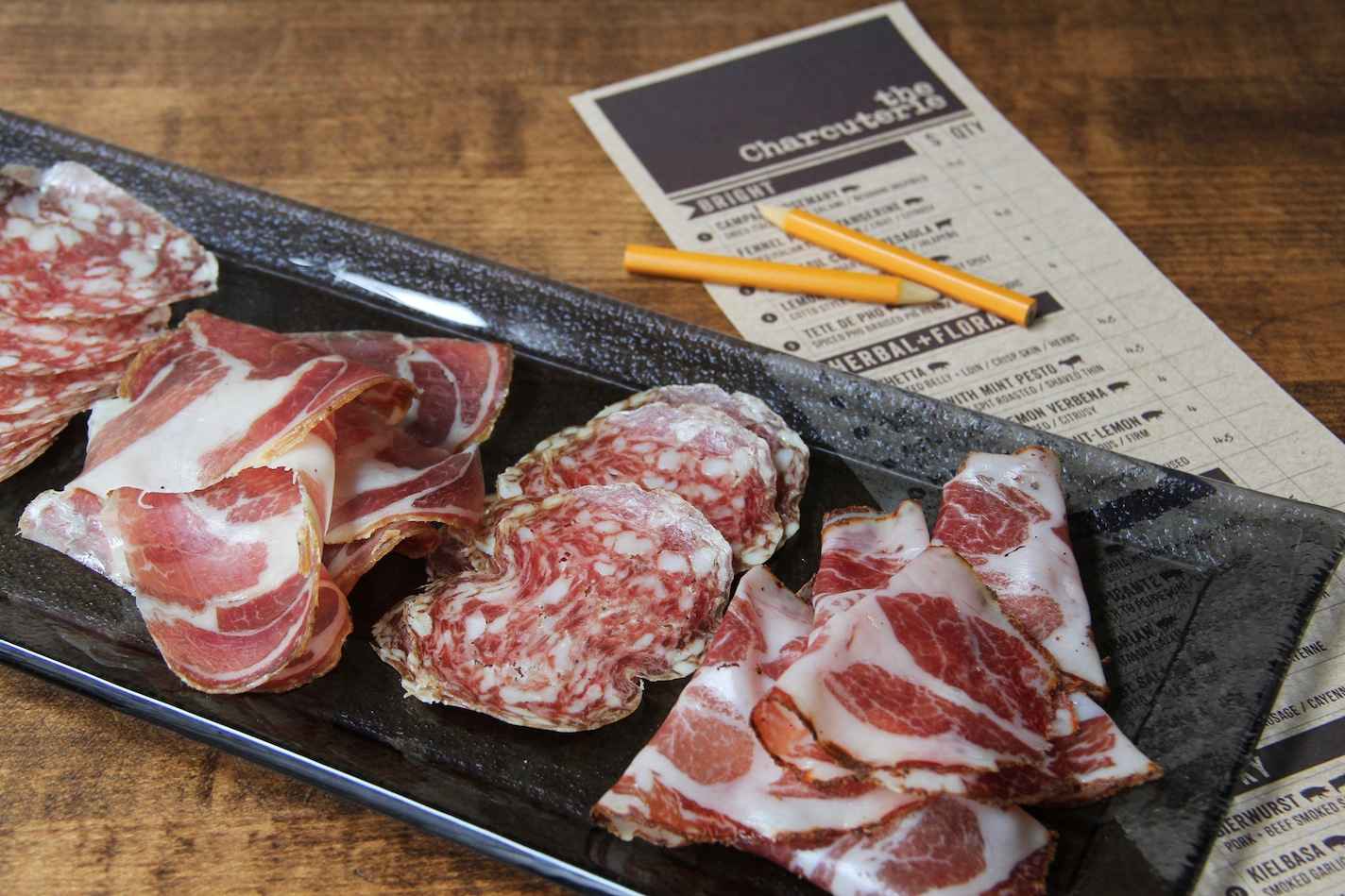 from: Thrillist. Read the review; it's fantastic!
9am: We had a snack (a breakfast biscuit) at
The Partisan
where I got to try Elderberry lemonade. (I brought some back from France, but I never got around to drinking it. It's too pretty!) Justin bought some fresh salami to snack on.
9:30am: I got my hair done at
St. Germain
. It's so nice having lovely hair even if I think it is absolutely silly to get one's hair done while on vacation.
11am: After a bit of waiting around, we finally met up with Justin's friends for lunch at a gluten free Mexican restaurant called
Austin's Grill
. The food was not that good, and I would only recommend eating there if you have a gluten allergy.
noon: Our group of six (including 2 kids) took the hour long walk through DC to the
National Geographic Museum
. We had read that there were kid friendly exhibits as well as a photography exhibit. Let me go ahead and say – this museum is great for kids, but not so great for adults. Of course, we only looked through about half of the exhibits before leaving to get homemade ice cream (from a vendor outside the museum) and hot tea (from
Peet's
).
3pm: Justin's friends and their kids returned home, and Justin and I continued our journey through DC. We took a pit stop at the
National Building Museum
which was
incredible
as well as something in DC we had never done before. We also took a gander at the
Smithsonian's American Art Museum and National Portrait Gallery
, which had some amazing artwork but overall wasn't as impressive as I had hoped. We walked through
Chinatown
and finally settled on a dinner at the
Matchbox
before heading to the
National Mall
for sunset.
8pm: By this time, my feet were killing me. We managed to find a Whole Foods where we bought a gluten free dessert and bottle of red wine to take to Justin's friends. Then, we were back on the Metro, again. Obviously, more talking and drinking ensued with friends before the night ended, a bit earlier than the night before, at 1am.
Sunday
from: Examiner; the DC Metro stations all look alike
7am: Justin and I had talked about getting up for sunrise but our late arrival back at the hotel and early departure on plane encouraged us to sleep in a bit. We considered going out to breakfast, but inevitably decided against it and ate at the
hotel deli
. It was expensive and the food was not very good.
8:30: By this time, we had run out of things to do. We decided to go ahead and check out of the hotel and board the Metro for our return trip to IAD.
9:30: For a fee of $50,
Frontier
said they would change my name on my ticket. Heck no. We tempted fate and went through security without a hitch. YAY! Then it was time to meander the airport, shop a bit, and get a drink before take off. (Who says you shouldn't drink before noon?!?)
11:30: We boarded the plane … and arrived in Atlanta around 2:30. We boarded Marta, got off to eat at
Davinci's Pizza
, then boarded the bus that would get us back to Justin's office. (Carrying luggage for 45 minutes through Atlanta one time was enough for me.) At 5:30, we met up with my family for a quick snack before finally heading home.
8pm: It sounds crazy, but my eyes were killing me and I had a pounding headache, so I went on to sleep. I slept for almost 12 hours straight. Justin waited 2 hours, going to bed at his normal time, and he wondered why he was so tired the next day. ;)
So… that was our weekend trip!
Have you ever been to or done any of those things before? Is there anything I missed that you think I should have done?
* Taking part in
October Blogging Challenge